St. Catherine University
Expanding HErizons

Case Study
Telling a Story to Fund a World-Changing Mission
Helping St. Kate's lead the charge for educating more BIPOC women leaders in science.
Categories
Web Design
Marketing
Branding
PR
Fundraising
The Challenge
St. Catherine University was founded in 1905 with the mission of preparing women leaders. Today this mission grew to include women of all colors, ethnicities, abilities, economic statuses, and sexual orientations. St. Kate's student body is currently comprised 42% BIPOC women.
In 2021, we were brought on to increase visibility for their effort to raise money to transform their historic Mendel building into a science and technology center, designed to prepare future diverse STEM professionals.
We developed a broad, emotionally compelling campaign called Expanding HERizons, created a microsite, held a town hall discussion on the importance of educating diverse women leaders in science, and through media coverage shared St. Kate's story of diversity.
The Strategy
We focused on creating an emotionally compelling reason to donate to the Mendel science building. Through research, we found that only 27% of the STEM workforce in the United States was women. That percentage drastically fell to 5% when looking only at women of color.
We helped St. Kate's develop a goal of seeking to double the number of BIPOC women leaders in science within the next 5 years so that the diversity in STEM would translate to solutions and opportunities for more diverse communities.
We named the campaign Expanding HERizons which reflected the goal of increasing the number of BIPOC women leaders in science. Rather than focus solely on raising funds, we sought to position St. Kate's as a leader in educating BIPOC women and developed their story to include their desire of increasing diversity in the science-related field specifically.
We were intent on ensuring donors throughout the country heard St. Kate's story, and felt compelled to support their mission to diversify the future of STEM.
Approach
We began with designing and developing a modern, eye-catching microsite that told the story of Expanding HERizons. The site included statistics on how St. Kate's was leading the way in attracting a diverse student body and demonstrated the need to update its facilities in order to educate more BIPOC women leaders in science.
We brought in Kerri Miller, a well-known public radio host to moderate a Town Hall discussion that featured St. Kate's diverse leadership team and student body.  In addition, we conducted a PR and advertising campaign around the Town Hall that generated increased awareness.  
Our top-notch team of digital marketing experts, advertising and design creatives, and media relations experts helped maximize St. Kate's investment in this effort and ultimately achieve their fundraising goals.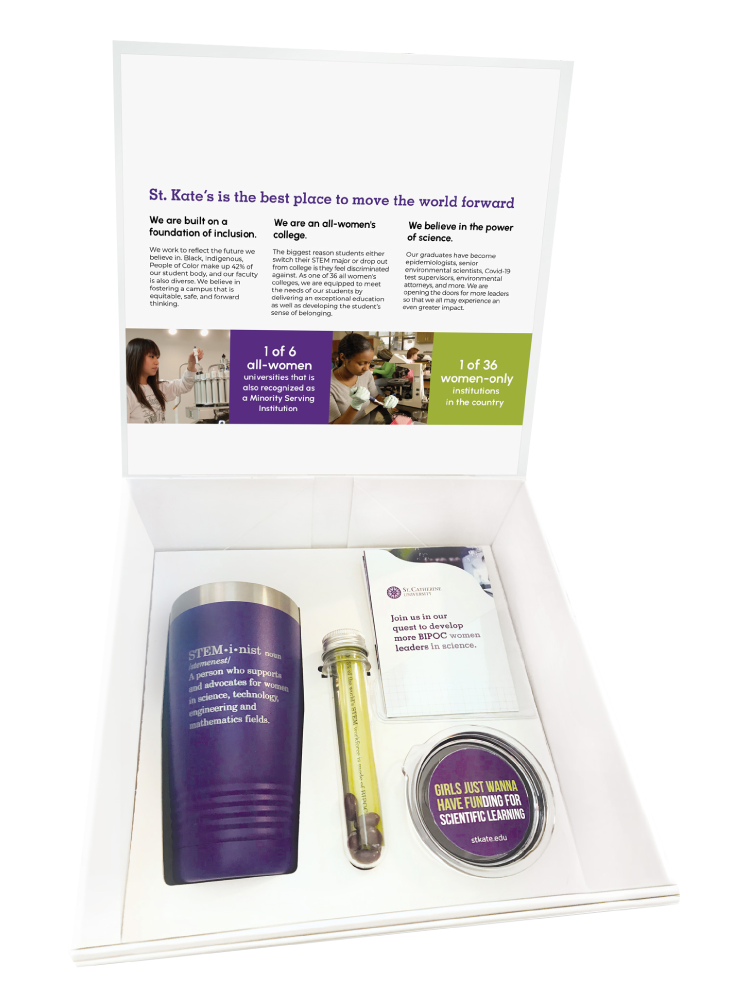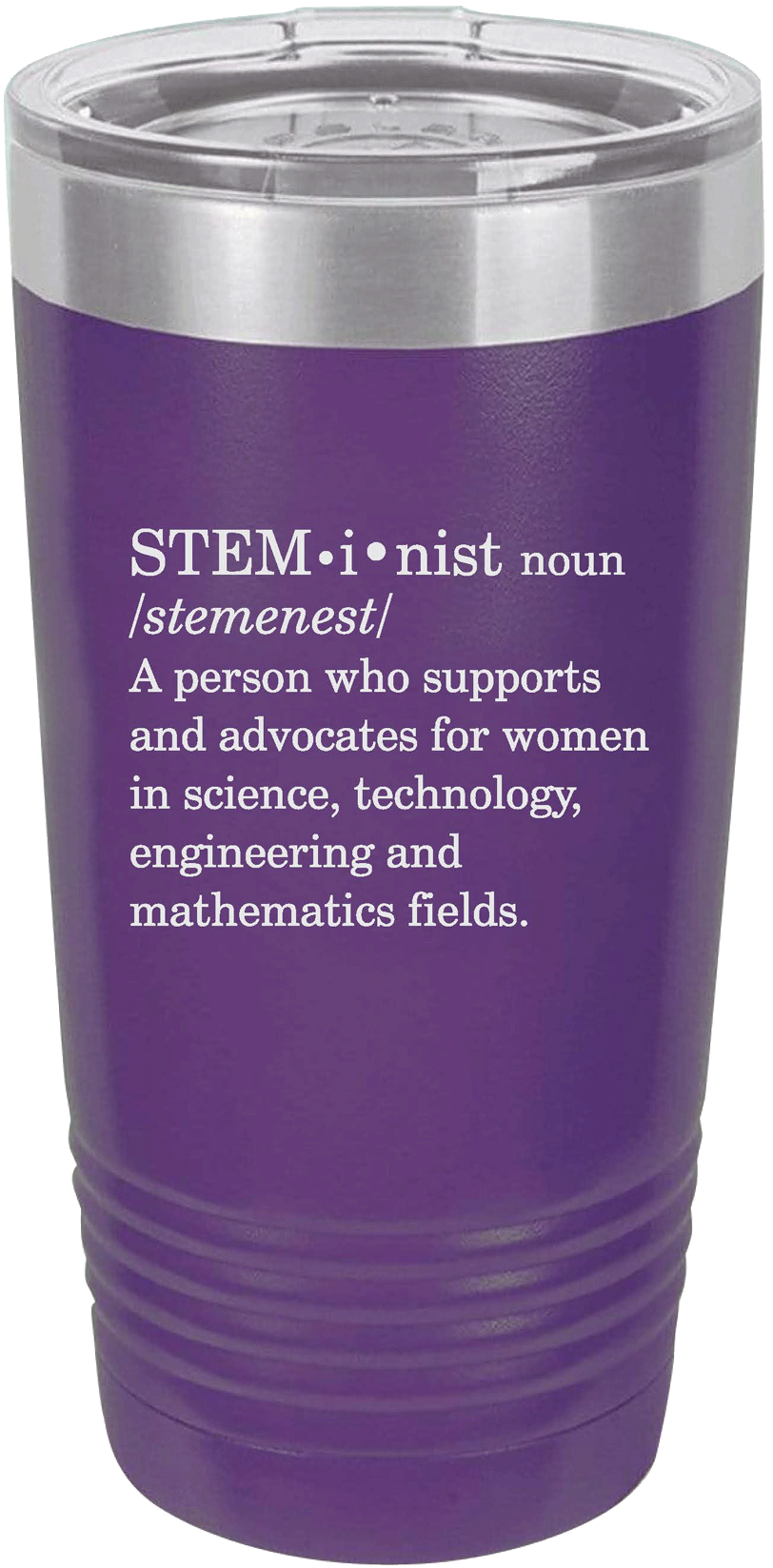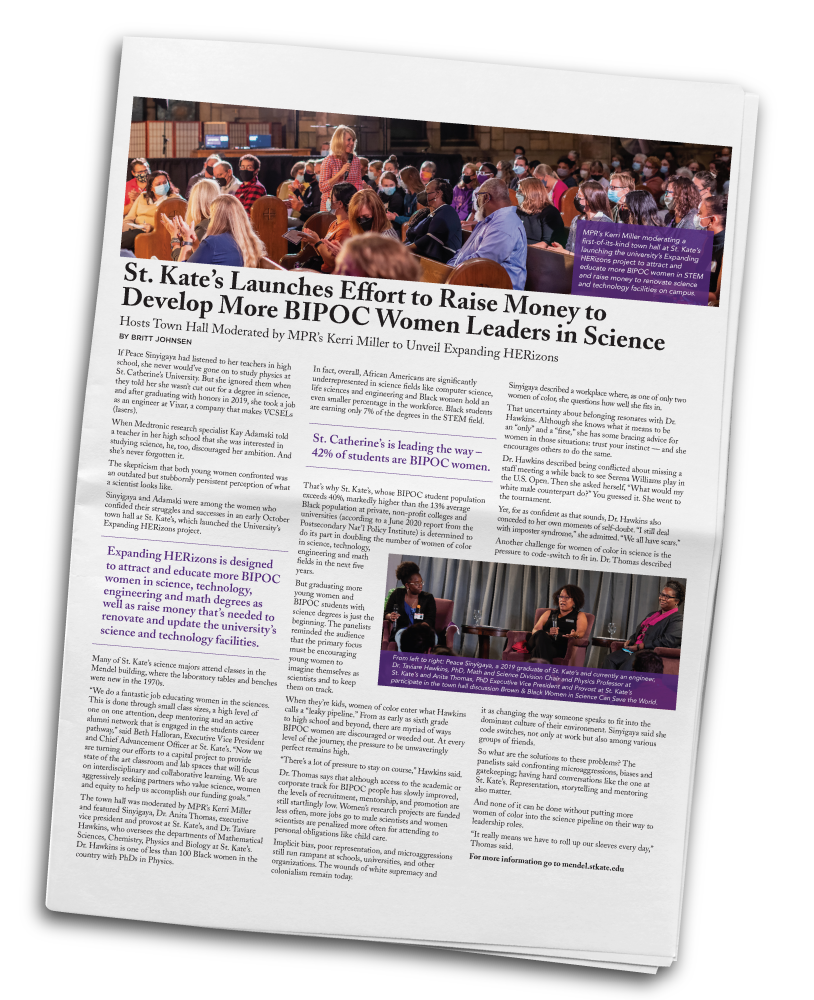 addressing challenges.
generating big results.
DONATION RAISED IN one event
Let's Start Something new

Say Hello!